Vivacious is the stage name of Osmond Vacious, a drag performer best known for being a contestant on Season 6 of RuPaul's Drag Race. Vivacious ranked 12th place in the season. She describes her look as Leigh Bowery realness/club kid fashion.
Biography
Vivacious is known for facing struggles throughout life and her Drag Race journey, such as her zipper problems in her Werk Room entrance.
One of the original 90s New York City club kids, she considers her drag to be "living art". Well known in the New York City straight club scene, she considers herself an "ambassador of drag".
She is known for her memorable quote, "Mother has arrived!" and her iconic headpiece, "Ornacia".
Drag Name Origin
She got her name from her second-grade teacher. Vivacious best represents who she is—full of life and full of energy. When she performs, the audience will get lots of high energy moves from her.
Memorable Quotes
"Liza Minelli lies."
"Mother has arrived!" (Entrance quote)
"Shady apes"
''Gia is still a ladyboy, in or out of geesh.''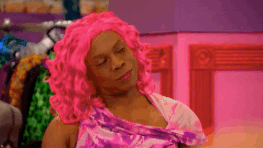 Trivia
Vivacious appeared in Katy Perry's performance of Swish Swish with the Backpack Kid, Scarlet Envy and Yuhua Hamasaki on SNL in May 2017.
Vivacious is the first Caribbean-born queen on the show, precisely from Jamaica.
Follow Vivacious
Community content is available under
CC-BY-SA
unless otherwise noted.