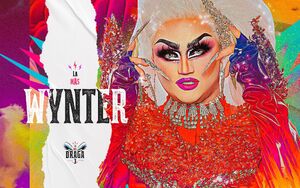 The Wynter, or simply Wynter, is the stage name of Luis Ernesto Cedillo Lozano, a Mexican drag queen and performer. She is a contestant and the winner of La Más Querida (a title equivalent to Miss Congeniality) from the third season of the Youtube Show La Más Draga.
Track Record(s)
Wynter
Seasons Competed:
LMD 3
Ranking:
10th Place
(Double Elimination)
La Más Querida
Points Total / Average:
56
11.2
Maxi Challenges Won:
0
Mini Challenges Won:
0
Times Placed High:
1 (Ep. 4)
Times Placed Low:
0
Times in Bottom Two:
1 (Ep. 5)
Episode Eliminated:
Episode 5
Memorable Quotes
"Ay Jesucristo, dame fuerza."
"Y pos ya."
"Y tú ya no llores que ahorita va haber pluma y piedra." (to Madison)
"Ay pero me le pones un filtrito o algo." (In her first confessional)
"Wynter es como algo que quieres tener, y puedes tener, pero te va a costar muy caro."
"Ya te hice la gatada."
Trivia
Wynter and Aviesc Who? are the first pair of contestants on the show to have the outcome of their lip sync left unknown until the episode after.
Wynter was, along with Aviesc Who?, part of the first double elimination of the show.

Coincidentally, both of their real first names are "Luis".
Coincidentally, both initally finished with the exact same overall score, with 56 points.
Coincidentally, Aviesc and Wynter went on to win the crown and the La Más Querida award respectively.

Wynter and Aviesc Who? are the second Winner and Miss Congeniality duo to lip sync against each other, following Heidi N Closet and Jaida Essence Hall.

However they are the only Winner and Miss Congeniality to both be eliminated.

Wynter is the first Miss Congeniality from La Más Draga to not place 6th.

She is also the first one to come from Monterrey, NL.

Wynter is the first Miss Congeniality to be eliminated on the Snatch Game/Impersonation Challenge.
Gallery
La Más Draga 3 Looks
Filmography
Web Series
Social Media
Community content is available under
CC-BY-SA
unless otherwise noted.