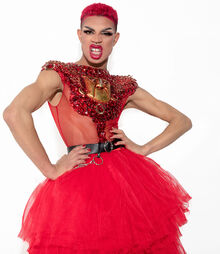 Yvie Oddly is the stage name of Jovan Bridges, a drag queen, performer and the winner of Season 11 of RuPaul's Drag Race.
Name Origin
Yvie Oddly's name was inspired by people calling her performances weird, and so she wanted a name that was "even odder than everybody else's" to match.
RuPaul's Drag Race
Yvie Oddly
Seasons Competed:
Season 11
Ranking:
1st
(Winner)
Maxi Challenges Won:
1 (Ep. 2)
Times in Bottom Two:
1 (Ep. 8)
Times as Team Captain:
0
Mini Challenges Won:
0
Episode Eliminated:
N/A
Denver's "commodity of drag oddity," Yvie Oddly bucked what she thinks is a "boring local drag scene" and brought conceptual artistry into the mix. Self-described as tall and weird, Oddly draws inspiration from fashion bands like Mugler, as well as non-conventional drag artists like Christeene. Yvie is all about the hustle and isn't afraid of taking the "scrappiest, dirtiest, most back road option and making it work." Known for bringing her brain to the table, Yvie is expected to make jaws hit the floor during the competition.
Style
Yvie describes herself as an "authentic weirdo" whose style ranges from high fashion glam goddess to dirty street punk. She loves anything that is going to shock the audience and make their jaw drop to the floor. Yvie states she is always changing and "looking in the future" which makes her drag the most unique and best fit for the title of America's Next Best Drag Superstar.
Entrance Quote
"Move over ladies, this race just took an odd turn."
Memorable Quotes
"HUEHUEHUEHUE."
"I am Denver's commodity of drag oddity."
"I'm just here to shock and suck cock."
"What does that HAVE TO DO WITH ANYTHING BITCH?!" (to Silky Ganache during Episode 3's "Untucked")
"Send me home 'cause I'm injured."
"I'm a little pissed that you tried to throw me under the bus, because I'm "injured" when I finished our routine, with my sprained ankle doing s*it you could not dream of and that you tried to throw me under the bus after you put on some stretch fabric bullshit and covered it in beans.'' (to Silky in Episode 7 "Untucked".)
"Off a dumpster that was in the Top 3, so check it and then wreck it." (during her ongoing argument with Silky in Untucked.)
"You think being safe every week is going to get you somewhere?"(to Silky)
"I'll dance circles around your ass." (to Silky)
"That's because Sasha Velour was talented."
"Let's give pats on the back to mediocrity and beans!" ( to Silky Ganache about her run on the show during Episode 7's "Untucked")
"Because like that's really cute to say, but you're also the bitch who was like "Well... I guess...the one girl who I wanna go home is Yvie, cuz she fought me."." (to Vanessa Vanjie Mateo during Episode 7's "Untucked")
"I THINK YOU'RE A FUCKING TERRIBLE SISTER! CAUSE I AM NOT ON HERE TO FUCKING HIDE AROUND THE CORNERS AND BE LIKE *whispers* hey girl." (to Vanessa Vanjie Mateo during Episode 7's "Untucked")
"I am FUCKING done with this SHIT!"
"I DON'T NEED CORDIAL, BITCH. I NEED REAL!" (to Vanessa Vanjie Mateo during Episode 7's "Untucked")
"Bitch, you literally just talked about how you thought Scarlet should have been home after the first fucking dance! (to Silky Nutmeg Ganache.)
"I'm Yvie Oddly and oddly enough, my edges stay shredded but these tits are tough. When other girls fake I just call out their bluff, so glue on those shoes and tighten them tucks. And I know I play rough but that's how I tumble, I bend over backwards whenever I fumble. I'm giving my all to shine like RuPaul, so pardon me bitches if I don't seem humble. Odd bless, howdyoooo! *laughs*" (Yvie's verse in Queen's Everywhere.)
"Odd Bless!"
"Follow your oddities and fly your freak flag!" (After her victory)
"Eat a baby!" (Yvie's original victory quote that was re-shot because according to the FCC, it is either profane or obscene & cannot be said on television. She also said this during the book launching mini challenge)
Trivia
Yvie suffers from a condition called Ehlers-Danlos syndrome type 3, which affects the tissues in the skin, bones, blood vessels, and many organs.

Yvie considers herself a "partial Halloween queen", as she first did drag on Halloween with her mom;
She appeared in music videos by Adore Delano and Season 4 winner Sharon Needles.
Yvie is the 2nd ever contestant from Denver, Colorado, after Nina Flowers.
Her favorite past contestant is Nina Flowers.
She was paired with Adore Delano for Season 11 Episode 1's mini challenge, a photoshoot.
She is the second ever contestant to injure herself on screen during an intense choreography challenge, the first being Eureka in Season 9. Her injury was not as severe as Eureka's and she was able to continue competing.
Yvie can perform on Lyra, a large areal spinning hoop often used in circus.
She and Brooke Lynn Hytes are the seventh pair to lipsync against each other twice. The other pairs are BenDeLaCreme and Darienne Lake, Katya and Alaska, BenDeLaCreme and Shangela, Eureka and Aquaria, Eureka and Kameron Michaels and Monique Heart and Trinity The Tuck.
Yvie is the first winner to only win one maxi-challenge.

She is also the first winner to win the least amount of challenges out of all regular season finalists.
She is the second winner after Sasha Velour to not have a solo challenge win (excluding All Stars).
She is also the first regular season winner to place in the bottom of Snatch Game and the second overall after Trixie Mattel.
She is the second Native American winner after Trixie Mattel in All Stars 3.
She is the third regular season winner to not win a mini challenge after Bebe Zahara Benet and Sharon Needles.
Gallery
Season 11 Looks
Videos
Season 11 Videos
Discography
Singles
Year
Title
Artwork
Notes
2019
"WEIRDO"
by Cazwell & Yvie
ft. Craig C.
2019
"Dolla Store"
Appearances/Features
Social Media
Community content is available under
CC-BY-SA
unless otherwise noted.